Henryk was born in St. Petersburg in 1921. His mother was a housemaid to a Russian general and father was a member of the Czar's Palace Guard. Although his father had been regarded as too old to fight against the Finns in 1914, the Bolshevik Revolution in 1917 persuaded the family to return to Poland. In 1922 aged one, the family settle in Vilno.
Here is Henryk's account:
'On the 17th September 1939, early on a Sunday morning, Soviet Russia invaded Poland. A small Polish unit was leaving town (Vilno). With a few of my colleagues, we joined this unit as volunteers. Equipped and armed, we marched west, but did not get very far as Soviet troops had cut us off. On 20th September we decided to cross the Latvian border and be interned. We were dis-armed and interned temporarily in a barbed-wire surrounded camp at Dyneburg. The Soviets had occupied the Baltic States during the winter of 1939/ 40 and we were now treated more like prisoners of war. After a few weeks I was sent to a camp at Liepaja, a port on the Baltic Sea where the Soviets had a naval base. At the camp, we were well treated by the Latvian guards, but there was little to do, so I volunteered to work on a farm to the south of Riga near the town of Dzerbene. During the winter I caught 'flu and was returned to a camp at Ulbroka near Riga to recover.
In the summer of 1940 I went to work on another farm near Krustpils in southern Latvia. Relations with Latvia obviously did not agree with the Soviets. On the 24th August 1940 Latvian police took us away from the farm and returned us to the camp at Ulbroka that was temporarily controlled by Latvians. When we got up one morning, we saw that are guards were Soviet soldiers. On 1st September 1940 we were marched to the railway station and told we were going home. We did not believe them. Packed in goods waggons like sardines (45 per carriage), we set off and only travelled at night and by day marshalled well away from stations. On the 2nd September 1940 we crossed into Soviet Russia and travelled through Polock, Witebs, and Smolensk until we reached Babinowo. Lorries took us to a camp called Juchnowo 30Km away.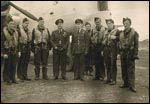 On the 1st May 1941 we left this camp and marched on foot to the railway station where we once again were packed into goods waggons and left. The next day we passed through the outskirts of Moscow. After 10 days of travel we arrived at Murmansk and then loaded into the confined hold of a cargo ship called the Clara Cetkin. We were in the Arctic Ocean heading for the Kola Peninsula. During the journey, we experienced hunger and thirst. A Finnish U-boat intercepted the ship with the intention to torpedo us, however, the Finns advised the crew and POW's that Germany had invaded Russia and the hostilities between then had ceased. After 10 days at sea, we arrived at the Kola Peninsula on the river Panoi. Here we disembarked onto barges and were interned into a camp made up of only tents and went straight to work on building an airfield.
After 2 weeks we were loaded onto barges and taken back down river. The POW's were loaded onto a cargo ship called the Aldan and shipped to Archangel. At Archangel we were put into camps surrounded by barbed - wire. After 4 days we boarded a train and travelled south through Wologda, Yaroslaw and halted at a station called Wladimir. The following day we dis-embarked and marched on foot with an escort of armed guards to the town of Suzdal. The march was very hard due to the constant lack of food and water. When passing streams, POW's rushed for the water and the guards began to shoot. When we passed some local on-lookers, the guards told them we were German POW's and we received a lot of abuse from them. The camp at Suzdal was better than others. It was an old monastery situated on the outskirts of the town and we were kept in the old church.
On 1st August 1941 we were given an amnesty by the Soviets and we were going to join the Polish Army which was being formed in the Soviet Union. Almost a month later, on the 2nd September 1941, we left camp and marched to the railway station without a Soviet escort and under the command of our own officers.
On the 8th September 1941 we arrived at Tatistchev (Tatiszczewo) near Saratow on the Volga River. Here the 5th Polish Division (under Lieutenant-General Anders) was being formed. Our accommodation in our billet was tents - summer or winter !
The Polish Government in London wanted a couple of thousand young men to volunteer for the Polish Airforce in England. I immediately applied and on 25th November 1941 we started our journey to England. We were transported, again in goods waggons, south to Koltubanka depot and awaited for more transport. During the harsh winter, many died of typhoid.
On 30th January 1942 we were transported south to Kermine in Uzbekistan. Here we waited until 23rd March 1942 when we boarded a ship at Krasnowodsk on the Caspian Sea. At last we had left the Soviet Union !
We quickly arrived in Pamlevi and we were the first batch of Poles who had left the Soviet Union. On 27th March 1942 we arrived in Tehran and stayed for a few days. On 3rd April we went south to Activaz and left by 17th April to head for the Persian port of Bunder-Shah-Pur. We boarded an English troop ship called the City of Canterbury and sailed for Bombay in India and arrived on 23 April 1942.
Our final leg of the journey started on 25th April 1942 on the New Zealand troop ship Avatea bound for South Africa. We arrived in Cape Town on 7th May 1942 and departed on 13th May aboard a Norwegian ship called the Bergen Fjord and arrived safely in Glasgow on 7th `June 1942.