The Polish Navy
Cliquez ici pour la version francaise

During the inter-war years the Polish navy had suffered through poor resourcing as the army and fledgling air force formed a greater role in defence strategies. 'Poland had a million men under arms, including twelve brigades of cavalry; on paper it was an impressive force, all the more impressive in the eyes of those fatally romantic Polish generals who were convinced that with bravery and enough horses once could do anything' (Budiansky, 2000: 69). However, while this may re-enforce popular myths about the state of Polandís armed forces (Polskie Sily Zbrojne or PSZ), Poland had since reorganization in 1926 been practicing war games for the coming conflict. The strategic planning simulated invasions from the Germany (Plan N) or from Soviet invasion (Plan R). The Poles even simulated a two front invasion (Plan N + R) (Zaloga and Madej, 1991). The navy had been earmarked in a lesser role, albeit important in protecting the ports and merchant fleet in the Baltic waters. Formed on the 28th November 1928 (to celebrate the victory of Oliwa), Jozef Pilsudski had been impressed by the strategic treatise of Marian Kadulski who envisaged the absolute control of the Baltic Sea being governed by a fleet of fast motor torpedo boats and mine laying submarines (Peszke, 1999). Hopes of creating a navy through war reparations had been dashed when the German fleet was scuttled in Scapa Flow in the Orkneys, Scotland on 21st June 1919.

In the early 1920s Section II (Biuro Szfrow) of the Army General Staff had been regularly breaking and listening into German communications traffic. 'In February 1926 German Navy messages became unreadable; in July 1928 the Army messages followed suit' (Budiansky, 2000: 69). Machine generated ciphers were suspected and while early models of the Enigma machine had been exhibited in a Swiss business exhibition in 1928, Polish Intelligence were keen not only to crack German codes, but also be able to replicate the machine (Stafford, 2000). By 1928 Poland had been secretly reading German traffic and this was the "ace up the sleeve" as both Britain and France could not and were in effect blind to German communications.

Expenditure on the navy represented about 2% of the national defence budget (Zaloga and Madej, 1991) and whose strategic role would be to deny easy access to the key ports. The navy was relatively small and equiped with modern ships of which much pride was attached. Polish shipyards had started too late to be geared up for construction and this held back a greater role. The table below indicates the size and status of each class of ship.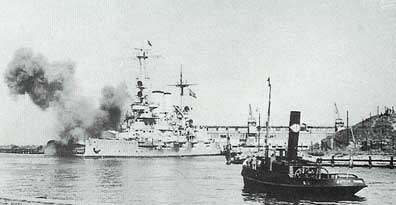 Schleswig-Holstein shelling Westerplatte garrison September 1939

The Polish Navy
Class/Type
Simoun
Destroyer
Grom
Destroyer
Gryf
Minelayer
Rys
Submarine
Orzel
Submarine
Jaskolka
Minesweeper
Displacement
1920
2144
2250
980/1250
1100/1650
183
Length (m)
107
114
103
78
84
45
Main guns
4-130mm
7-120mm
6-120mm
1-100mm
1-105mm
1-75
AA Guns
2-40mm
4-40mm
4-40mm
2-40mm
AA MG's
4-13mm
2-13mm
8-13mm
2-13mm
1-13mm
13mm/7.62mm
550mm
Torpedo tube
2 triple
2 triple
6
12
Max speed
Knt
33
39
20
14/9
19/9
18
Crew
155
190
205
54
62
30
Country of
builder
France
Britain
France
France
Netherlands
Poland
No. in Class
2
2
1
3
2
6
Action
Wicher: Destroyed Sept. 1939. Burza: with Grom and Blyskawica left Gdynia on 1st September 1939 and sailed to Leith in Scotland. Returned to Poland 1947 and is now a museum ship.
Grom: sunk 4th May 1940 after the Battle of Narvik in Rombaks fjord, Norway. Blyskawica: With Grom left Gdynia on 1st September 1939 and sailed to Leith in Scotland. Originally based at Harwich saw action in Norway, convoy escort in Western Approaches, Mediterranean and Home fleet/ operations
Gryf: Destroyed Sept. 1939
Rys and Zbik Interned in Sweden. Wilk: escaped to England.
Sep: Interned in Sweden. Orzel: Escaped to Estonia and interned in Tallinn, escaped and made it to Rosyth, Scotland Oct 1939. Sank German troop carrier (Rio de Janeiro) off Norway 8th April 1940. Action in the Baltic and North Sea.
Based on: Zaloga and Madej (1991)
Poland's mobilization order for ground units was made on 26th August 1939 followed by the general mobilization order on 30th August 1939, was not done to force the hand of Britain and France, but on the need to respond the German battle orders. On 28th August 1939 all Polish flag carriers were ordered to remain outside the Baltic Sea with the Polish Destroyer Division ordered to sail for Britain on 30th August 1939 (Peszke, 2005) under operation PeKing in an agreement with Britain's admiralty. When war broke out on 1st September 1939 some of Polish Navy had successfully run the gauntlet while others heroically defended the approaches to the ports and Westerplatte. The old German battleship Schleswig-Holstein entered Danzig on an official visit before formal declaration of war had been made. It shelled the Westerplatte garrison at 04.45 from an advantageous position within the main port.
Coastal Defences:
The Seacoast Defence Force and units of the Polish Navy defended the Baltic Coast. Split into four operational areas KOP battalion defended the Hel Peninsula under the command of Wlodimierz Steyer and consisted of 2,800 troops attached to AA units and shore batteries (Zaloga and Madej, 1991). These units were quickly isolated in the first few hours of the invasion. The Hel Peninsula was bypassed until the Wehrmacht objectives of capturing and securing the ports at Gdynia and Gdansk were secured.
The Naval Rifle Brigade and the Naval National Guard Brigade under the command Col. Stanislaw Dabek consisted of approximately 14,00 troops forming a defensive perimeter around the Oskswie Bay in which lay the naval ports of Gdynia and Gdansk. A complex network of shore batteries and AA positions ringed the bay and Zaloga and Madej (1991) indicate troops were supplemented with local militias.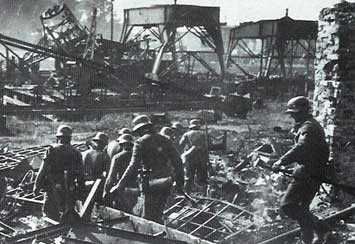 SS Heimwehr Danzig battalion supported by Wehrmacht regulars and Pionier Lehrbataillon attacking Gdansk.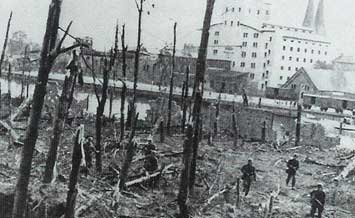 The remains of the Westerplatte Garrison

The Westerplatte garrison were the first units to be engaged in the sea and land borne warfare with SS Heimwehr Danzig supported by Wehrmacht regular troops and police units attacking the maze of concealed units overlooking the sea dubbed 'little Verdun' and exacted high casualties on the Germans including 300 dead before the garrison fell on 7th September 1939 (Zaloga and Madej, 1991; Peszke, 2000).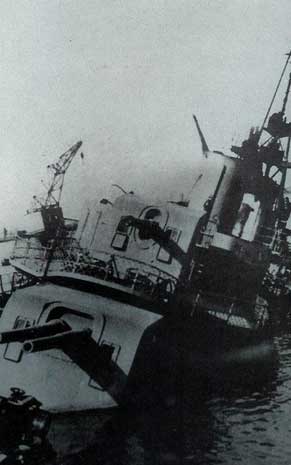 ORP Gryf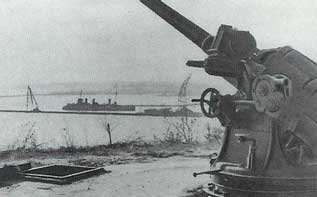 Coastal battery at Oksywie

At Oksywie the German 207th Infantry Division supported by various paramilitary units and made up a force of about 26,000 troops attacked a much smaller and poorly equiped Polish force. Kartuzy was over-run on 4th September and the Polish forces retreated towards the main ports. The Hel Peninsula garrison had sustained constant bombardment and once the main ports had fallen, both the Luftwaffe and the Schleswig-Holstein pounded the base. Despite days of constant bombardment, the garrison regularly repulsed attacks with hand-to-hand fighting. Pushed back to Kuznica, the Poles detonated massive mines and temporarily separated the peninsula from the mainland in an attempt to stem the attacks. Admiral Jozef Unreg, commander of the garrison decided to continue fighting despite the fall of Warsaw on 29th September and continued a dogged fight until 1st October 1939 when the ceasefire took effect in the early afternoon.

The small and dedicated navy put up stiff resistance to the invasion with numerous acts of gallantry against all odds. ORP Mazur surrendered only when the gunners on the sinking vessel were waist deep in water and unable to operate the gun. While Burza, Grom and Blyskawica had escaped to Leith in Scotland, the remaining fleet fought with some success although limited. Gryf and Wicher set fire and destroyed the German flagship Leberecht Maas on 3rd September before a mass German bomber strike sank them. The submarine fleet escaped and either faced internship in Sweden or as in the case of Wilk escaped to Britain while Orzal under the command of captain Jan Grudzinski heroically escaped from Tallinn in Estonia with no charts, munitions or gun locks to Rosyth naval base in Scotland, home to Britainís submarine fleet.

In other actions the German minesweeper M-85 was sunk by mines laid by ORP Zbik while the destroyers Burza and Blyskawica had attacked and most likely destroyed U-boat before leaving the Baltic.

Britain

On 18th September 1939 the Polish Navy became attached to the Royal Navy under British Admiralty command and were assigned a number of destroyers under a lease scheme. The Polish navy consisted of six destroyers (Garland, Piorun, Krakowiak, Kujawiak, Slazak, Orkan), 3 submarines (SokÛl, Jastrab and Dzik) six motor torpedo boats and two cruisers (Dragon and Conrad). Their theatre of operations ranged from convoy protection in the Atlantic and Mediterranean, action in the North Sea or special tasks defending special operations, for example, Blyskawica provided cover for troop withdrawal from the beaches of Dunkirk. Both Blyskawica and Grom were in action during the Norwegian Campaign at Narvik engaging German coastal batteries where Grom was sunk in the Rombaken fjord. At night on 20th June 1940 Wilk detected a U-boat and rammed it. In a true 'David and Goliath' engagement the ORP destroyer Piorun detected and engaged the mighty battle-ship Bismarck winning respect for their gallantry.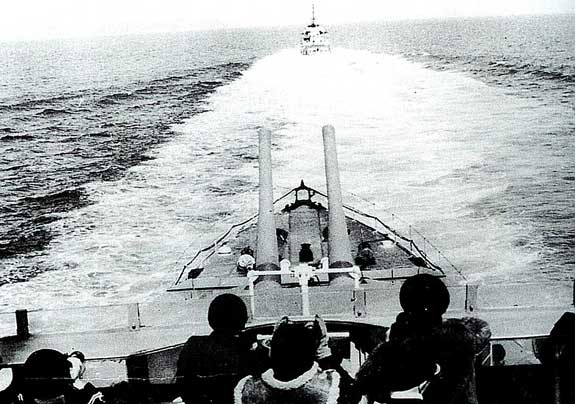 ORP Krakowiak and Kujawiak on convoy protection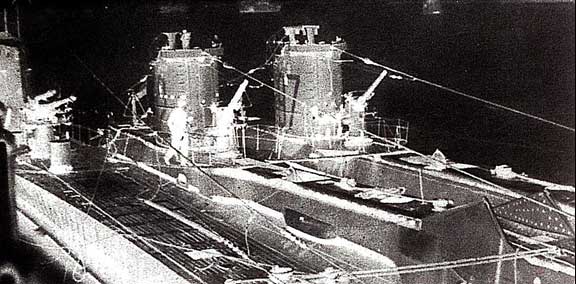 Wilk, SokÛl and Dzik re-supply in the Mediterranean.

The Polish Navy was in most major events ranging from support for the Dieppe Raid, invasion of Sicily or D-Day beaches in Normandy. On 6th June 1944 all bar one Polish ship (ORP Garland) was involved in NEPTUNE - the naval part of the operation. The cruiser Dragon was attached to Task Force D in the support of the 3rd Canadian Division at JUNO beach at Courseulles (which later included 1st Polish Armoured Division). The Polish destroyers ORP Slazak and Krakowiak provided cover for the British landings at Ouistreham by protecting the minesweepers and landing craft. Both Blyskawica and Piorun had been attached to the Tenth Destroyer Flotilla, which was made up of the 19th and 20th divisions of which Blyskawica was leader. On the night of the 9th June 1944 the flotilla was off Ushant after the RAF had sighted a large German naval fleet attempting to disrupt the convoys and supply lines to the Normandy beaches. After a decisive battle, the allies crippled the last attempts by the German navy to put to sea again and in which the Polish navy made a significant contribution.

Over 400 men and officers gave their lives for the defence of Britain and Europe from the Nazis.

Polish Mercantile Marine

During the inter war years the Polish mercantile fleet had grown to forty ships mainly consisting of bulk cargo carriers for the export of coal and other industrial goods. A cadet force was being trained on ships like the Dar Pomorza and the burgeoning cruise ships. Motor Vessels (MV) Pilsudski, Batory, Sobieski and Chrobry were the pride of the fleet carrying fare-paying passengers on a variety of routes to earn much needed hard currency and acting as a 'window' for the modern Polish state. As war loomed, some ships had been adapted and decks strengthened to carry weapons for defence and as part of the strategic plan, should Poland be invaded all ships were to make their way to Britain.

On 28th August 1939 all Polish flag carriers were ordered to remain outside the Baltic Sea and therefore only about 9% of the fleet was lost (Peszke, 1999). Eleven ships were caught in the Baltic Sea, North Sea ports or Danish Straights and sought protection in Sweden where they eventually met in Göteborg before sailing with a Royal Navy escort to Britain via Bergen. SS Slask, Rozewie and Poznan were the last to leave the Baltic with SS Rozewie arriving on 18th November 1939 (Peszke, 1999). Mercantile crew were also scattered across the globe often working on other ships and lines. At the outbreak of war these personnel trekked and joined up to continue the struggle. In many cases their journeys were no less hazardous than those escaping from Poland and making their way to France or Britain. A training centre was set up in Southampton and the Polish mercantile fleet were found in all theatres of war transporting troops and goods across some of the most hazardous routes throughout the war as part of the Allied Merchant Navy Pool.

Additional Sources:

Polish Navy Portal
Polish Navy in Scotland
Polish Navy
The,Battle of the Atlantic and the Polish navy
Polish Motor Gun Boats and Torpedo Boats from WW2
Poland on the Web - Polish Navy
Poles in Plymouth