Operation Windproof and The Slovak Rising
With the collapse of the Warsaw Rising and a stalled central Soviet front in the autumn of 1944, SOE operations in Central Europe were under the threat from the advancing Soviet army. The Nazi army was fighting effective rearguard actions against partisan forces and laying waste to the countryside. Operation Freston had been dispatched on the night of 26th December 1944 to ascertain the damage to the AK and re-establish lines of communication between London and the Polish underground with British Liaison Officers (B.L.O's) working with different groups as Churchill did not like the emerging plans for post war Central Europe being dominated by the Soviets. SOE had also maintained other sub-operations Operation Desford and Flamstead in Slovakia and also in Hungary despite these countries being deemed as the Soviet 'sphere of influence' and theatre of war.

Operation Windproof was a communication operations run by the SOE in Slovakia and Hungary sandwiched between the Nazis and advancing Soviet lines. The objectives were to pass messages between London and underground parties with the idea of penetrating Hungary from the north due to difficulties in entering Hungary via Yugoslavia. The operations had a supporting role for a Slovak Rising and assist the Hungarian government's negotiations for an armistice with the Allies. These operations were working on the limits of air-support by Halifax bombers flying out of Bari in Italy. The Windproof team were at the mercy of weather, missed supply drops, Foreign Office duplicity, treachery and political turmoil between Moscow, London and the various Governments in Exile.

Windproof were dropped into Slovakia on 18th/ 19th September 1944 at Zarnovica, which is 19km SW from the Slovak Partisans HQ at Banska Bystrica. This was the day after a USAF Fortress with fighter escort landed at Tri Duby and dropped off supplies. The team was lead by Major Sehmer who was fluent in German. Lieutenant Daniels was 2nd in command and was actually Polish working undercover with Lieutenant Zanopian as the interpreter. Corporal Davies was a hastily found W/T operator. At the same time in central Slovakia the US army had a W/T unit linked to the main supply base at Bari in Italy. Their role was mainly for propaganda and an escape unit for the USAF. The Czech underground army unit known as V.I.T were also operationally working with the SOE party Manganese' together with 'A' Force officers running three W/T sets. There was also a Soviet delegation working with General Golian.

In his report, Major J. Sehmer indicated they were dropped 19kms off course and almost on top of the German Army and they also ran the risk of being shot by the Slovak sentries. They were taken to meet General Golian, leader of the Slovak Rising who commanded about 50,000 partisans of the C.F.I. Here the negotiations for Windproof to remain in Slovakia as a base so that the other officers Lieutenant Daniels and Lieutenant Zanopian could establish routes and links into Hungary. The report also indicated a growing number of refugees, particularly of Russian origin who had taken French and Belgian nationalities seeking protection from Soviet retribution.

A cipher dated 25th September 1944 (PRO/ HS4/245/223485) indicated the delicate activities within this theatre of operations. Throughout the war there was a core group of partisans loyal to the exiled Slovaks in London. Agreements had been reached to stage a rising when the Czech Parachute Brigade attached to the Soviet army arrived and would allow free passage for the westward Soviet advance. In reality 2 Soviet Brigades failed to arrive in Banska Bystrica, whereby the planned rising could not take place. However, Intelligence reported another 2,500 partisans passed through Tri Duby from Soviet lines en-route for Bohemia. The German army then attacked in force southwards with two SS and five Wehrmacht divisions towards Vrutky causing the Slovak army to retreat towards Stara Kremnicka with the partisans retreating into Visokafatrim with heavy losses and lack of ammunition and arms. The ruthless Dirlewanger and Kaminski Brigades fresh from their killing spree in the Warsaw Rising were sent to 'rub out' the remnants of the Slovak Rising. They were forced into a small pocket of territory in central Slovakia and annihilated. In the east Zhukov had been slow to react as the troops in this sector were not trained or equipped for mountain warfare and the tanks were useless in this terrain (Hastings, 2004).

The German Army successfully quashed the Slovak Rising with all bar a few participants rounded up or surrendered leaving the Windproof team working on their own (PRO/HS4/245/223485). A cipher dated 6th October 1944 indicated the surviving Slovaks were reluctant to accept Soviet control and sought help from the Windproof team to develop propaganda for posters and newspapers. At the same time reports were coming in that the Soviet controlled partisans were undisciplined with poor quality Soviet officers lacking leadership skills. The Slovaks still under General Golian requesting the partisan HQ in Kiev to order all partisan units to a camp at Moravi to resolve the situation.

Working in isolation, the Windproof team continued to collect intelligence from the team based in Hungary and route it to London. High priority was the interrogation of Hungarian POWs for intelligence on the state of Hungary's armed forces and the state of the economy for briefing politicians in London and the Foreign Office. Supplies being dropped by the USAF became a major political issue and Major Sehmen repeatedly requested supplies as the German Army was again attacking Slovak positions just 7km from their transmission site.

Lieutenant Daniels and Lieutenant Zanopian had crossed over the border into Hungary in civilian clothes and made their way to the Matra Mountains where they made their base camp. Their hideout was close to waterfalls at Vizesés. The surrounding area had been popular for tourism prior to the war with a number of hotels and restaurants dotted around the quite spare countryside. There had also been a glider school located nearby. Most of the area had been a farming estate with game shooting once owned by Count Michael Karolyi, which had been confiscated by the government in 1920 and later became one of the leaders of the Hungarian Revolution in 1923. The location was close to the village of Parad, a small thermal spa and about 2km from Gyöngyös and connected by a narrow gauge railway ideal for guiding aircraft to the drop zone. Gyöngyös also had rail links to Budapest.

The following diagram indicate some of the detail of their hide-out's location (PRO/HS4/245/223485)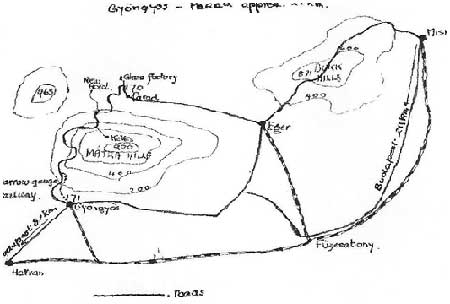 They set up courier routes between Slovakia and Hungary and posed as agents working for the Slovak C.F.I and carried false identities. Their missions were to collect intelligence and secure a safe house in Budapest through a number of known sympathisers to the Allied cause (These are listed in the archive). It would take a courier a week to deliver a message from Lieutenant Daniels to the Windproof HQ in Slovakia. Movement within Hungary became difficult so a journey to Ipolyszög near Balassa-Gyarmat was fraught with danger due to new laws relating to labour and conscription. This meant able-bodied men were being rounded up regularly. The danger escalated after the Germans began to withdraw from southern Hungary towards the end of September 1944 and drew up defensive lines between Morava Ostrava, Trencin and the Vahu Valley. In the disputed territory between Hungary and Slovakia, Hungarian officials abandoned their posts and returned home with many villages straddling the border preferring to belong to Slovakia rather than Hungary. Retreating Germans had begun looting shops in Budapest and there were reports of small bands of criminals masquerading as partisans. Intelligence gathering indicated that the demoralised Hungarian army were hoping for British forces to invade via Italy/ Austria and Yugoslavia before the Soviet Army entered Budapest with some officers indicating that some units would collaborate immediately in retaliation on the retreating German army. However, the Gestapo had spies riddled in all units of the Hungarian army with no one daring to express anti-German sentiments for fear of reprisals. In one of the final missions by Lieutenant Daniels was to capture a senior Hungarian officer and bring him over the border to Major Sehmer for interrogation.
SOE's Czech Mica team joined the operation after 17th October 1944 prior to being ex-filtrated to Italy. The Mica team consisted of officers Colonel Greenless and Lieut. Colonel Raw together with a W/T operator who were being sent to bolster the Hungarian operations.
Operation Windproof became so politically sensitive with outward hostility by the Soviets towards the presence of SOE teams in Slovakia and Hungary that they were being forced to step down from operations and make their way to Budapest. However, at the last moment and despite heavy Soviet re-supplies to General Golian and the C.F.I forces, SOE decided to drop Lieut. Gibbs as an interpreter for Windproof team at an emergency airfield at Brezno on 21st October 1944. The SOE had brought pressure upon a number of interested parties that access to southern Germany via Hungary was also another option.
A cipher dated 24th October 1944 (PRO/HS4/245/223485) indicated how desperate the Windproof team were becoming. They had been cut off at Slavosovce about 90km East of Banska Bystrica with 250 C.F.I soldiers, 250 partisans and another 400 men without arms when on their way back from Hungary. The request for supplies was promptly attended too, but bad weather delayed the re-supply sortie. By 28th October they were surrounded and Major Sehmen indicated he would dump the W/T set in case of capture. Communication with Lieutenant Daniels and Lieutenant Zanopian had been broken with no knowledge of their whereabouts.
Major Sehmen managed to escape, however, with the odds against them the C.F.I soldiers and partisans deserted when the Germans captured Slavosovce. With a company of partisans the Windproof team made their way to Polomka at the base of the Nizke Tatry Mountains. With no kit or stores Major Sehmen was anxious of their position and again requested they join the Mica team. They regrouped with about 200 men from the 3rd Partisan Company commanded by Dymko and moved to Zavadka n Hronom to await the drop. Although desperate, re-supplying them proved difficult and although there was a Soviet partisan group based 3km west, this group had not been re-supplied for over a month. Foul weather over the UK and parts of Europe held up the re-supply mission until mid-November and the W/T set needed spares for them to continue to broadcast messages. Despite their ordeal requests for bombing targets were made and the text in the messages showed deep concern, as the local meteorological conditions were not bad which prompted repeated prioritization of re-supply. General Golian was betrayed by a woman and caught at Bukovec 6km west of Kosice from where he was sent Bratislava to be tried for desertion and treason. The Windproof team immediately requested permission for their plan of escape to be granted. They continued to operate and provide communications despite the village of Polomka being captured by the Germans on 25th November with their emergency broadcast (called 'skeds') requesting re-supply. That night the drop zone fires and flares were not lit as an unidentified plane was in the vicinity. Their 'sked' also confirmed other members of the Slovak National Council had been captured and taken to Bratislava for trial. Little is known what happened to the Windproof team.