Mieczyslaw Antoni Lesniak
Awarded: Defence Medal, War Medal, Polish Air Force Medal (with two bars) Croix des Combattants Volontaires.

Mieczyslaw Antoni Lesniak was born on 11th May 1918 into a modest middle-class family of Melchior and Gabryela (née Stromiec from Radom). The family home was in Ul. Batorego 4, Warsaw-Okecie and had a brother who died prematurely in 1915.

Mieczyslaw was sent to high school on Paryska 25 from 1930 until he matriculated in 1938 aged 20 years old. Prior to the outbreak of war he enlisted in the PAF technical branch from 1938 until 1939 where he was trained at Radom for Regular Officers School where he specialized in technology, airframes and aero-engines. Like all trainees he was attached to an infantry unit for three gruelling months before starting his technical courses (Zamoyski, 1995), after which he would have included advanced courses in maths, physics and chemistry. Through out the September campaign Mieczyslaw would have fought rear-guard actions more as a soldier than a member of Poland's Air Force. On 3rd September valuable PAF personnel were ordered to make their way to southeast Poland in order to make their escape with the order being given on 17th September to cross into Rumania. Despite the desperate battle to save Poland, young Mieczyslaw saw the futility of the battle as the sketch below indicates.

Like all young Polish combatants Mieczyslaw wanted to escape and free his country from the Nazis tyranny. By making his escape into Rumania he faced internship in an impoverished country lacking the economic and political resources to defy Hitler. His internship camp at Focsani (150Km NNE of Bucharest) was in an appalling state where he caught malaria. Finally he was released with 90,000 other Poles in a clandestine operation led by General Zajac Commander of the Polish Air Force (based in Bucharest) from September until December 1939. Despite efforts and pressure put on the Rumania Government by Nazi Germany, key personnel were ordered to escape/ slip away from the camps and head for the ports at Constanza, Balcic or Efori to embark upon ships destined for Marseilles, France.

Mieczyslaw arrived in France in early January 1940 and was sent to Camp de Carpaigne just outside Marseilles. He enlisted in the Polish section of the Armée de L'Air on 18th January 1940 and sent to Lyon-Bron airfield where the conditions were intolerable.

While Britain and France argued with Sikorski over the role of the PAF and under whose command or country the Poles should fight, the young airmen saw changes in attitudes as the 'Phoney-War' developed. At first welcomed as 'les braves Polonais' and brass bands on the quayside to welcome them the onset of war saw shifts within the mood of the French population to one of mutual distrust (Zamoyski, 1995). Demoralization set in as the French restricted the Poles access to equipment, uniforms and planes, however, by March 1940 attitudes were turning and aircrew were being trained on the more advanced Moranes fighter planes.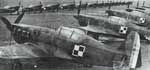 Moranes with PAF insignia at Lyon-Bron 1940

On 27th April until June 1940 Mieczyslaw was posted to Wireless Operations School at Versailles, Paris. When France was attacked on the 10th May there were over 7,000 PAF in France as part of the Armée de L'Airi>. While units of the PAF had been moved to front-line positions, the air-defence strategy lacked cohesion with bases and planes being destroyed rather than put into action, even as reserves (Zamoyski, 1995).

In the chaos that ensued, Mieczyslaw was preparing to be evacuated and was constantly on the move from 11th to 19th June. He was moved to Arpajon via Paris on 11th June. Then Poitiers before moving onto Parthenay. After a short stop they were moved to Airvault 75Km to the north of Parthenay before being ordered back to Parthenay and moved to Saintes for a rest and awaited fresh orders. From Saintes he was moved to St. Suivant in Brittany near the town of Ploëmel before being moved to Rochfort seeking embarkation for Britain. Mieczyslaw finally embarked on the cargo ship SS Alderpool (torpedoed and sunk on 2nd April 1941 by U-48 SW Reykjavik bound from the USA to Hull) at La Rochelle bound for Plymouth. He arrived at Plymouth on 22nd June 1940 and his 'Phoney War' was over.

British military authorities would have screened Mieczyslaw on entry into Britain for status with intelligence services seeking out spies and fifth columnists. At this stage of the war pilots were being posted direct to the overflowing depot at Eastchurch while other sections of the PAF, particularly ground crew awaited the move of the PAF depot to Blackpool and Kirkham. For Mieczyslaw, he remained in a transit camp as a Cadet officer until 30th June. Unfortunately the location is not recorded. The Anglo-Polish agreement saw all PAF personnel downgraded in rank and the new head of the PAF General Stanislaw Ujejski intensified the training of all personnel (Zamoyski, 1995). Mieczyslaw arrived in the newly open Depot at Blackpool on 1st July 1940 and remained in basic training camp until 5th January 1941.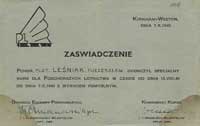 From 1st July 1940 until 6th January 1941 Mieczyslaw was based at Kirkham Weeton on a ground crew training courses where trades were taught in: airframe and engine fitters, flight mechanic, flight rigger, armourers and wireless operations. His Malaria was finally cured after being confined to the RAF Station Kirkham hospital. On passing this phase of his training, Mieczyslaw was then posted to a Gunnery and Wireless Operators Course from 6th January until 4th October 1941 with the view to joining a bomber squadron.
From 4th October until 19th April 1942 Mieczyslaw was based in Dumfries on an introduction to Air Navigation and Observation Course, which was also run in conjunction with a course in air gunnery and bombing. His logbook shows he dropped 25 bombs from a variety of heights with a reasonable degree of accuracy and passed the course with 2 hours of flying time in a Blackburn B-26 Botha trainer-bomber. He also passed his air-gunnery course, but failed to qualify as aircrew due to ill health and 'clocked up' another 3hours 55 mins in the Botha.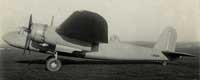 The air navigation course ran in parallel with bombing and gunnery and again the course was passed with excellent grades, but due to poor weather, the minimum requirements were not met. He had experienced over 50 hours airtime in the role of navigator or observer with just over an hour of night flying. On passing out of the course, Mieczyslaw was recommended for training as a navigation instructor and returned to the Polish Depot back at Blackpool until 9th May 1942.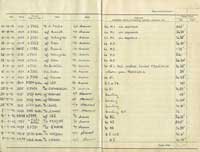 Sample from Mieczyslaw Antoni Lesniak navigator's logbook. Dumfries 1942

From 9th May until 7th July 1942 Sergeant Mieczyslaw Lesniak was posted to Cranage near Macclesfield. RAF Cranage had a number of roles during the war ranging from aircraft storage (the Vickers-Armstrong factory producing the Wellington Bomber was adjacent to the airfield), home of RAF 96 Squadron (Nightfigher Squadron defending Liverpool) and No. 2 Air Navigation School, which had both RAF and PAF personnel. The training aircraft included Anson's, Airspeed Oxfords and Wellingtons'. Mieczyslaw passed his No. 33 S.N Instructors Navigation Course on 2nd August 1942 with the recommendation he improved his English. Amongst his papers were the neatly copied out lyrics from all the popular tunes ranging from 'White Cliffs of Dover' to 'What shall we do with the drunken sailor' with combatants variations on a theme to match the wartime spirit.

For those interested in the navigation routes the following information gives a glimpse of their training.
| | | |
| --- | --- | --- |
| Route Number | Description | Flight Time |
| DR5/R54 | RAF Cranage, Wrexham, Rhyl, Isle of Man, Great Ormes Head, Wrexham, RAF Cranage. | 2 Hours, 5 Mins |
| DR4 (sealed orders exercise) | RAF Cranage, Rhyl, Great Ormes Head, RAF Cranage. Actual destination/ target recorded as 5202N, 0258W. | 2 Hours |
| DR3/R6 | RAF Cranage, Overton, Stony Stratford, Ludlow, Holt, RAF Cranage | 2 Hours, 45 minutes |
| DR4 (sealed orders exercise) | RAF Cranage, Rhyl, Great Ormes Head, RAF Cranage. Actual destination/ target recorded as 5202N, 0258W. | 2 Hours |
| DR3/R20 | DR3/R20 RAF Cranage, Tuxford, Buckingham, Lechlade, Rushden, Tuxford, RAF Cranage | 2 Hours, 35 minutes |
| DR5/R15 | RAF Cranage, Tuxford, Actual destination/ target recorded as 5202N, 0022W, Wrexham, RAF Cranage | 2 Hours |
| SME/R62 | RAF Cranage, target not stated, Kington, Congleton, RAF Cranage | 1 Hour, 35 mins |
| SME/61 | RAF Cranage, target not stated, Cold Ashby, Holt, RAF Cranage | 1 Hour, 50 mins |
| Square Search | RAF Cranage, Great Ormes Head, 5340N 0430W, 5340N 0345W, 5354N 0341W, Rhyl, RAF Cranage | 2 Hours |

On 7th July until 31st August 1942 Sergeant Mieczyslaw Lesniak was posted to RAF Newton (No.16 Polish SFTS – Secondary Flying Training School) near Nottingham as an instructor in navigation. Here trainee pilots flew Harvards' and were brought up to 'wing' standard with a variety of refresher courses including air navigation.

By 1942 the Air Ministry was satisfied the PAF could run its own training units with the Initial Training Unit (ITU) being moved from St. Andrews to Brighton in early 1943 and the number of courses plus the capacity increased to meet war demands (Cynk, 1998; Zamoyski, 1995). Mieczyslaw Lesniak first posting to RAF Brighton was between 7th July 1942 to 1st January 1943 where he assisted in the transfer and setting up of the training centre. The training centre was based in the Abbots Hotel in Regency Square. (The hotel was demolished in the 1960s to make way for a block of flats). He was promoted to Flying Officer after attending an Officers Initial Training Course at Cosford from 3rd - 31st March and remained in Brighton until 21st May 1944.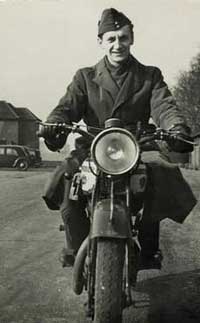 Somewhere in England' 1939 – 1945 on a favourite motorbike

In May 1944 and with the approach of D-Day ITU Brighton was transferred to Croughton in Northamptonshire where they specialized in training flight engineers for Lancaster and other heavy bombers (Cynk, 1998). Flying Officer Lesniak was based at Croughton until 14th October 1945 before being posted back to No.16 Polish SFTS at Newton where he completed his war and awaited his fete like thousands of other Poles, Slovaks and Czechs and was officially discharged from the PAF on 17th December 1946.

Portrait dated October 1945 taken at RAF Newton
Polish Resettlement Corps
Britain formally withdrew the recognition of the legality of the Polish Government in Exile on 6th July 1945 after the Yalta Conference. Each of the armed services was responsible for the de-mobilization and transfer of armed combatants into the Polish Resettlement Corps (PRC).

The Air Ministry published the conditions of service on 14th October 1946 for the Polish Air Force Resettlement Corps (PARC) and listed the choices:
Settle in Britain
Emigrate to Commonwealth or other foreign countries
Return to Poland
At the beginning of 1947 some 11,000 Poles 'joined' the PARC who were based at Hucknall (acted as the HQ), Cammeringham, Castle Combe, East Wretham, Framlingham (Suffolk), Portreath, Skipton-on-Swale, Melton Mowbray and Dunholme Lodge.

With a new rank of Pilot Officer, Mieczyslaw was sent to the camp at Castle Combe from 17th December 1946 until the spring of 1948 before finally being transferred to Dunholme Lodge in Lincolnshire until discharge on 16th December 1948. While with the PARC we would have had intensive English classes and taught skills required for civilian life.

Discharge portrait from PAF

He obtained employment as a shop assistant with Aird & Co industrial tool specialists then based at 45 Gardner Street, Brighton, Sussex after his discharge. He remained there until the early 1960s. He met and married Rosa Ann Irewe (a piano teacher) and they married on 2nd April 1956.

Working as a specialist in a tool shop. Date unknown

In the early 1960s he moved to Crawley and worked for Crawley Tools based at 2 Grand Parade.

For a while he was a science teacher at in a Roman Catholic school in South Eltham, London. Prior to retirement he took a position as a physics teacher at an independent school in Lee Green, London SE12 from 1980 to 1995. At Riverston School he was kindly remembered for his charm and politeness where his enthusiasm and outstanding knowledge of physics and chemistry was breath taking and fascinated successive cohorts of school children. His demonstration of science as an engaging process of learning through re-cannibalized parts of equipment never failed to inspire children studying science.