Frantisek Smietana-Czarkovsky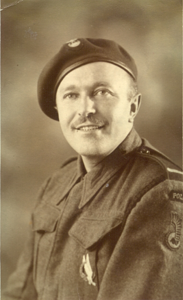 1st Independent Rifle Brigade
The following notes and photographs have been kindly donated by Jerry Mortimer. All copyright belongs to Jerry Mortimer and permission is required for any part to be copied. The Mortimer family reserve all rights to these materials for any publication including electronic media.
The story has been posted since little is known about Frantisek and so any help in completing his story would be appreciated by the Mortimer family so that we can share his life story on polandinexile.com.
What is known is that he was billeted with the grandparents of Jerry Mortimer near Totteridge Lane, Whetstone, North London. He oversaw a small Polish unit at a house in Totteridge Lane called The Priory. It seems that Frank arrived in England as part of an escort to the Polish gold reserves.
My father knew Frank and the other Poles well and learned to speak a fair bit of Polish. He told me he did not know what they did at the Priory, but he assumed it was clandestine as they had photography and printing equipment and powerful radios.
Frank stayed on with my grandparents. I was told he was given a choice of two jobs - railway porter or farm labourer. He chose the farm as he got out in the fresh air. Apparently, he had to work there for six months after which time he was allowed to seek other employment. Dad said he was a metallurgist at Krakow University, but not sure how accurate this information is. Dad said he went on to work in the design department of one of the car manufacturers.
Another memory has surfaced of my dad telling me he came home in the early hours one morning (dad was in a home guard bomb disposal squad) and found Frank in tears sitting on the stairs. Frank told him the Germans had been very active and several of his contacts had ceased transmitting. This would seem to indicate they were working with the Polish resistance in some way.
| | | |
| --- | --- | --- |
| Based in Scotland | | Unknown group |
The Wedding of Wanda, Frank's daughter.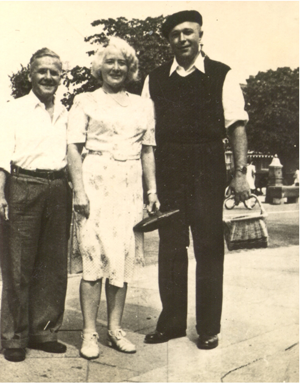 Ernie and Rose Mortimore posing with Frank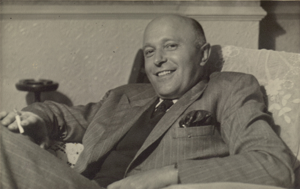 Frank relaxed in his civvies.
If any reader has further information about Frank and his unit, we would appreciate hearing from you.