C T Gregor (1909 - 1999)
1939 - 1945 : His war and the SOE
Bob Gregor worked for Major Hazzel in the Polish section of SOE (known as MOP or later EU/P). His job was to train agents and his duties included ensuring all the kit and clothing was correct right down to the details of ticket stubs, buttons and stitching. Apparently there was a Saville Row tailor (possibly Polish) who made the clothes for the agents. It was these skills and eye for detail, which assisted in the survival of the agents in the field.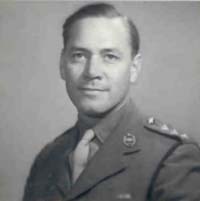 While working in the National Provincial Bank in Bristol he joined the Gloucester Hussars as part of the Territorial Army.
He also joined some sort of Special Army Reserve of bank employees while working in Jersey (he told me that he was told that he would be paid £1 more a week if he joined) which apparently meant he could be called up immediately if necessary. Probably that is why he was in uniform and in France very soon after war was declared on 3 September 1939.
When billeted somewhere near Rouen he saw no reason to sleep on a concrete floor and prevailed on his family to send him a lilo! No doubt caused some hilarity. This was during the phoney war.
No exact dates I'm afraid. On returning from leave soon after arriving in France he was informed by the Adjutant "don't unpack, you have been selected for a Commission, return to England and go straight to Sandhurst!"
This was actually the first civilian intake to Sandhurst. He was also one of the oldest.
Umbrella incident!
Returning from an afternoons' golf during heavy rain he decided to put up his brightly coloured golf umbrella in the Sandhurst driveway to be met by a roar from the Adjutant - "who do you think you are, the Chinese Army? Extra drill!"

After 6 months at Sandhurst, while the retreat from Dunkirk was going on he joined the Royal Tank Regiment. I assume the Gloucester Hussars were not mechanised?

His battalion was posted to Egypt and sailed via the Cape. Some time spent in Cairo getting organised and drilling with Honey tanks - very light! An advance ended in a defeat and evacuation from Tobruk. More waiting in Cairo for some reorganisation with the new tanks called I think Matildas from USA, rather better than the Honeys!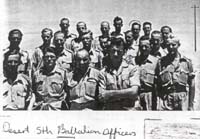 November 1941, saw another advance; The Battle of Sidi Rezegh - it was very confusing but he remembers seeing Bob Crisp charging about. ( see below)
On Nov 21st we think - his tank was hit, the driver and navigator and gunner were both killed. Although wounded in the knee and with shoulder and ankle injuries, he was able to get out and crawl to safety. He lay on the ground watching helplessly as the tank blew up. (This is noted in the war diary entry as told to us by Edward Wilson)
A passing German officer spoke to him and apologised for not being able to pick him up. He also stole his binoculars which Dad later retrieved from him when he was taken prisoner - we are not sure of these circumstances but we have the binoculars back.
The next day (and it must have been a bad night) an army patrol found him. First words from the officer, "good God Gregor, we thought you were dead!" They then left him and an ambulance later came to pick him up.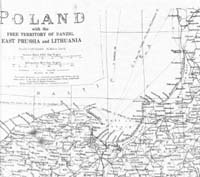 He was taken by ambulance to Alexandria underground hospital. His leg was set but apparently had become infected because he was put on the danger list. (He told me that they had wanted to amputate and he replied Not bloody likely thank you). On being notified of this his mother said she was not too worried as "he always got out of trouble"!
He always said that the new wonder drug M&B 293 - one of the sulpha group saved his life. After some time in hospital in Egypt he was shipped down to Durban and spent months in the Oribi Gorge hospital at Pietermaritzburg being treated and fitted with a splint for his ankle joint. When he needed to convalesce my mother who knew his cousin Basil suggested that an uncle of hers Robin Akermann put him up - here he played trains with his hosts son and met my mother who married him 6 weeks later and with him on a troop ship left for England in August 1942)
At the end of August after our marriage he returned to England and was referred to Bolney? hospital at Chertsey for further treatment as an outpatient. His future in the Army was uncertain. Another patient who apparently worked for SOE suggested he apply to them. He did not but after his discharge he was told to report to an organisation called (if I remember) MI5 - offices in Baker Street. It was obviously part of SOE but we simply called it the War Office.
It must have been early in 1943 that he reported to this office and found that it was the Polish section of SOE. It dealt with the organising of training for the Polish underground, the outfitting and training of personnel to be dropped into Poland and also cooperation with the Polish army in England. He spent two and a half years with this section and became friendly with several of his Polish colleagues (letter refers). He was promoted to Captain in early 1943 and continued to wear his RTR uniform and beret. Incidentally, one of the ex Government Ministers of Poland - Stronski, lived in a flat below ours.
One of his jobs was to ensure that all the clothes that the Poles were to wear conformed to Polish tailoring and he used a tailor in Saville Row, one day the tailor suggested that he make an extra suit for him - so he acquired a smart suit.
In May 1944 temporarily promoted to Major he was given the responsibility of accompanying an assignment of gold to be flown to Foggia in Italy for distribution to the Polish resistance. At an airfield in Southern England he saw a number of people and his gold loaded onto a plane. Then he saw his gold being unloaded. The plane took off and was lost with all its occupants.
He and his gold then took off in an American plant - refuelled at Gibraltar and spent the night at Palermo (I think) in Sicily. He was horrified when the American crew said "we are all going to the cinema and left the plane and its cargo unguarded.
After handing over the gold he somehow got a flight back to Tunis on his way to Casablanca where he was stuck for a couple of weeks. I remember a man phoning me and saying in a conspiratorial voice - "I have just seen your husband on the other side" - of course he could not say where that was!
So the war ended.
As you can see from the Polish letter dated 26 February 1945, the section had closed down. Part of their activities was running courses at various country houses taken over by the Army. These involved training in parachutes etc for dropping into Poland hence my little silk map. One such house was at Knebworth.
Early in 1945 he had another spell in hospital while we were being treated following a flare up of his leg infection. This was at St Albans. The surgeon wanted to do a bone graft but at my suggestion he consulted a Harley Street specialist who vetoed it! Penicillin was tried but once again M&B 263 did the trick.