The Polish Airforce 1918 – 1939
The modern history of Poland is reflected in its pioneering spirit towards aviation in the inter-war years'. While the Twenty Years of Independence (Niepodelosc) marked the re-emergence of Poland at the Treaty of Versailles, no other re-emerging nation received such gratuitous abuse and derision (Davies, 1981) from diplomats and politicians across Europe. While Poland re-emerged from the vacuum left in central European politics through the collapse of the Austro-Hungarian Empire, its very existence was to be repeatedly challenged through to the latter part of this century.
As a divided nation Poles had fought for and against the major armies of Europe. Within three years of its re-emergence, Poland had fought forces from Germany, Lithuania, the Ukraine and Russia over the sovereignty of land. While Polish politicians like Dmowski wanted frontiers based upon ethnic boundaries, many Poles sought the former glory of the Polish – Lithuanian Commonwealth which had existed at the end of the eighteenth century. The 'Polish Question' had dogged politicians both during war and at the Treaty of Versailles. Friction caused by complex ethnic boundaries and contested cities, ultimately led to the outbreak of war.
The first operational flight of the Polish Airforce took place on 5th November 1918 from Lewandówka airfield against Ukrainian nationalistic forces attacking Lwów (Zamoyski, 1995). Janusz de Beaurain and Stefan Bastyr piloted a plane cannibalised from parts of other aircraft that was assembled while mechanics and the airfield was under attack. Painted in the Polish colours of white and red, it made its first sortie and the emergence of a new fighting arm. Many Poles on returning 'home' after the Great War brought new skills in aviation whether they were pilots, mechanics or engineers. Contemporary historians tend to forget or minimize Polish achievement throughout history. It was a Pole who built the first helicopter in Russia in 1903. Prince Stanislaw Lubomirski had set up a flying school and aircraft works at Mokotów, just outside Warsaw and built the first Polish designed plane in 1910. Also, in the same year Grzegorz Piotrowski had flown a record 23 miles over water from St. Petersburg to Kronstadt. In 1914 Jan Nagórski made the first Arctic flight. While Flight had captured the hearts and minds of many young men, key members of the military were a little more ambivalent towards the role and effectiveness of an airforce. Numerous Poles were introduced to the delights of flight either through pleasure trips or from 'joining-up' as this was cheaper than private lessons. Not all introductions to flying or flight were in this manner as the following story in Tygodnik Podhalanski reported. Zenon Krzeptowski and a group of friends were playing in the lush meadows around Zakopane at the foot of the Tatry mountains'. A gentleman flying an early bi-plane found himself 'shot-down' by a group of schoolboys and their catapults. Most of the culprits fled, leaving Zenon to face the wrath of his father, Jan and forfeiture of his pocket money.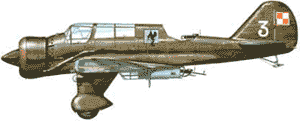 As a fledgling state, Poland was fortunate in that large amounts of war material and ordnance which had been abandoned by the various retreating forces, particularly the Germans who left disassembled aircraft in hangars at Poznan (Koniarek, 1994). While Marshall Jozef Pilsudski amalgamated and remodelled a new army through the use of French military advisors, the Polish Airforce (Lotnictwo Wojskowe) began to take shape. French military advisers also played an important role and so did a number of key individuals. Lieutenant Stefan Stec flew a 'liberated' Fokker D.V to Warsaw in November 1918 decorated in his personal colours of the red and white chequerboard with a border of complimentary colours which became adopted as the national insignia (Koniarek, 1994; Zamoyski, 1995). Two Americans, Major Cederic E. Fauntleroy and Captain Merian C. Cooper volunteered to fight and help train airmen after observing the Allies (which included Polish units) marching up the Champs-Elysées on 14th July 1919 after hearing the Soviets were threatening Poland. No. 7 Squadron largely consisted of American volunteers, some fifteen in all (Koniarek, 1994; Zamoyski, 1995) who fought with distinction during the Polish-Bolshevik War 1919 – 1921. The Squadron was named after Tadeusz Kosiuszko, the Polish general who fought in the United States during the Revolutionary War. Lieutenant Elliot Chess designed the famous squadron insignia. The thirteen blue stars and stripes represent the original American colonies. In the centre, crossed scythes reforged as lances and a four-cornered hat represents Poland's insurrection against Russia in the 19th Century (Koniarek, 1994). (No. 7 Kosciuszko Squadron flew with distinction as part of the famous 303 Squadron in the Second World War).
As a fledgling state, Poland could not match the inter-war arms race between Germany, Britain, France, Italy or Soviet Russia. The early years of Lotnictwo Wojskowe saw the development of Europe's second largest airforce under the direction of General Wlodzimierz Zagorski and later General Ludomil Rayski who may be regarded as the driving force behind Poland's military aviation industry. By 1929 the PZL (Panstwowe Zaklady Lotnicze) P.1 had flown. This all metal, gull winged aircraft was an advanced fighting machine and largely went for export to countries like Rumania, Bulgaria, Turkey and Greece. By 1936 15 Squadrons were equipped and then General Ludomil Rayski shifted the production of aircraft towards bomber production at the expense of fighter development and up-grading. In 1934 work had begun on the PZL P.37 Los bomber which began to enter service in 1938. The relatively small defence budget was no match for the European arms race and by the late 1930s Poland had slipped behind Russia, Britain, France and Germany (Zaloga and Madej, 1991). Contemporary historians like Liddell-Hart portrayed Poland as ill-prepared and weak without taking into account that large-scale industrialization had not started in Poland until the mid-1920s. Between 1936 – 1939 military capital expenditure accounted for 70% of all domestic capital investment and represented a Defense Budget of 800 million Zloty (Zaloga and Madej, 1991). The small oil reserves in Galicia near Boryslaw were strategically significant to both the German and Soviet military high-command, but production was limited. For such a young country much had been achieved within this fledgling democracy despite political turmoil and numerous border disputes in the early 1920s. Following Pilsudski's death in 1935, the military junta led by General Rydz-Smigly did not have extensive popular support.
Operational Doctrine
Much of the operational doctrine was based upon French strategic planning which by the late 1930s was inadequate to deal with Germany's mechanized war (Zaloga and Madej, 1991). Each army was allotted its own air units, usually made up of two squadrons of P.7 fighters or P.12 air defence/ ground attack aircraft. In addition one reconnaissance squadron made up of eight to ten P.23 Karas light bombers and one or two observation squadrons made up the Lotnictwo Wojskowe attachments to the army.
While Poland had some 300 fighters (Zaloga and Madej, 1991; Koniarek, 1994; Zamoyski, 1995) only 10% were in combat condition. The remainder were either in a training role or undergoing repair prior to the outbreak of war. The Karas bombers numbered around 240 and never really fulfilled its role as a light bomber or ground attack aircraft. The P.37 Los bomber was more advanced in design, but only 75 available for combat duty in 1939.
War in the Air
Numerous authors (Davies, 1981, Zaloga and Madej, 1991; Koniarek, 1994; Zamoyski, 1995) have attempted to correct historical myth surrounding the role of the Lotnictwo Wojskowe. The airforce was not destroyed on the airfields on the 1st September 1939. Most aircraft were dispersed to secret airfields and the Luftwaffe primarily shot-up and bombed empty airfileds obscured by early morning mist. Air defences concentrated on air cover over Warsaw as the prime objective that enabled the Luftwaffe air superiority to disrupt mobilization of the army. The military high command requested low-level raids on advancing German columns that proved to be very wasteful in planes. While most air units quickly retreated into the heartland of Poland, spares and fuel became an increasing problem. Communication between units and the army broke down and in some cases units were requested to carry out tactical support against an army which could outgun them or take on a superior airforce. Pilots and ground-crew fought heroically with limited resources and often found 'friendly-fire' was as lethal as taking on the enemy (Zamoyski, 1995). As planes moved from airfield to airfield, ground crews struggled to rendezvous and quite often became separated for up to three days before rejoining their squadrons. These experiences shaped tactical policy which were put to good effect, but not in this theatre of the war.
On the 3rd September onwards all units were to withdraw to southeastern Poland in order to re-group. All personnel and reservists had by now been called up. By the 5th September, the physical intervention by Britain and France had not materialized and the airforce had lost 30% of its aircraft. Zamoyski, (1995) pointed out that 14 Hurricanes and 36 Fairey Battles having being loaded aboard ships in Liverpool bound for Gdynia were rerouted to the Rumanian port of Galti on the Black Sea once hostilities commenced. On the 10th September 200 pilots and technical staff were ordered to Rumania to collect replacement machines. Unfortunately, Rumania under German pressure rescinded its alliance with Poland and became neutral while 6,000 airforce personnel massed on the border. The ship carrying its valuable cargo had passed Gibraltar as Rumanian neutrality was announced and unknown to the Poles, the ship was once again re-routed. From the 16th September onwards, combat casualties to aircraft and personnel escalated with squadrons being annihilated or simply running out of fuel and spares. On the 17th September 100 war planes and 50 civilian aircraft flew into Rumania to an airfield at Galati. The crews suddenly realized the war was over and that Rumania, Britain and France had not supported them in their hour of need. Most airmen were reasonably well treated. Polish army units began to cross the Rumanian border shortly afterwards. In Eastern Poland, the Polish army and airforce were engaging both the German and Soviets and continued to fight hard until 6th October.
In the aftermath, it appeared significant numbers of military personnel had escaped and started their campaign in exile. The navy had escaped and Poland's gold reserves too thanks to the planning of General Rayski. 900 airforce personnel had made their way to Hungary and approximately 1,000 to the Baltic States of Latvia and Lithunia. Another 1,500 had been captured by the Soviets and sent to the gulags – many did not survive (Anders, 1949; Zamoyski, 1995). Security at the internment camps was poor and the inmates too keen to get to France and Britain to fight while in exile. 90,000 Polish military personnel were to be clandestinely removed from the Balkans through an underground network. Britain was acutely short of trained airmen who were given priority together with the elements of the Enigma decoding material Zamoyski, 1995:39).
Any correspondence should be addressed to Julian Hoseason and e-mailed to:jhoseason@paston.co.uk. Any additional material or stories would be gratefully received.